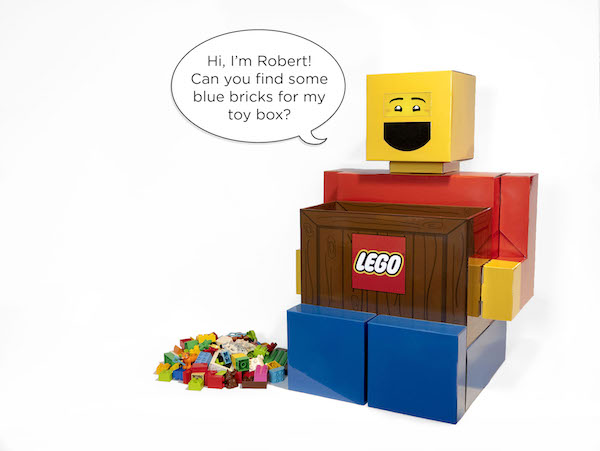 Robert Robot is an interactive playmate in the form of a one-meter tall robot. Automatically controlled by a smartphone, he facilitates playful experiences and learning with DUPLO bricks for 3-5 year old children by requesting them to find various bricks. Children drop the bricks into Robert's toy box, which causes him to say things like "Thank you for helping me! Can you find any blue bricks?" and "Can you find all the animals?"
Robert Robot also encourages imaginative pretend play when he performs as different characters such as the cheerful pirate Captain Brick, who immerses children into a thematic universe of sailing and treasure hunting, all revolving around creative play with DUPLO bricks.
While the technology is a playful experiment, and not a real LEGO product, it is a way we can explore the boundaries of what can be done with simple design and creative use of technology. Concept development, ideation and prototyping of Robert Robot and the play experiences for children took part in collaboration with the LEGO Group, Denmark. The project was realized by students and researchers at the facilities of Aalborg University and the results will be demonstrated at LEGO World 2019 in Copenhagen.
Additional information is available at https://www.hcc.aau.dk/RobertRobot.
Student Designers:
Julie Torpegaard: julietorpegaard.dk
Nicklas Lind: nicklaslind.dk
Morten Præst Linnet: https://www.linkedin.com/in/mortenlinnet/
Nilan Paramarajah: https://www.linkedin.com/in/nilan-paramarajah/
Line Søndergaard Knudsen: https://www.linkedin.com/in/line-soendergaard/
Project Supervisor: Timothy Merritt, PhD
About Human Centered Computing at Aalborg University
Human-Centered Computing at Aalborg University is a research unit in the department of computer science providing research and teaching in Interaction Design (IxD) and Human-Computer Interaction (HCI). Since 1974, Aalborg University (AAU) has provided knowledge, development and highly qualified graduates to the outside world. More than 20,000 students are enrolled at Aalborg University and more than 3,500 staff members are employed across the University's three campuses in Aalborg, Esbjerg and Copenhagen. For more information about the research unit, please visit https://www.hcc.aau.dk